| 24 November, 2014 17:37
Paul Durand-Ruel...What better place to start your trip in Paris, France than to visit a museum of your choice. I arrived at noon, just after the morning crowd at the Musee du Luxembourg.The exhibition cost euros12 to catch a glimps of the art dealers collections.
Upon entering the gallery, one can't help notice the explosion of colours radiating from the canvases of Renoir. The first room consist of the art dealers family portraits, Charles et George Durand-Ruel, 1882, Joseph also painted in the same year.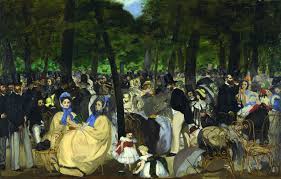 Also painted in 1882 is a protrait of Paul's sisters, Marie Therese et Jeanne. In this painting, the painter tries to capture light streeming through the foliages. It's amazing to see all these paintings in one room. It is hard to choose a favorite but one that strikes me most is a larger canvas, La Jeune Fille au chat. 
Renoir's application of colours allows one to understand the harmony in creating a unit as a whole to represent a picture. I've never seen a purple/blue cat before, but somehow when one is 'looking' at the painting, we don't annalized the colour of the cat, but actually evoke an emotion, lest forgetting the critical eyes.
     Before the discovery of this 'new' group of artists, Paul Durand-Ruel had a handsome collection of Romantic and Realist arts as well. Courbet, Rousseau, Millet
and another favorite painter of mine, two large canvases by Delacroix.
In 'L'Amende honorable', Delacroix for me signifies 'stroke of a Genius.' A single application of gold hue renders the illuminated sunlight coming from a window that is casting shadows on the figures below...continued
| 14 February, 2012 10:34
The need and ability to be creative are infused into all of us. it is a basic urge to relay our imagination. 
Menu
Calendar Of Posts
Categories
---